Having a sleeping area is a blessing, whether it's a nap or relaxing for hours during layovers in airports. Denver is one of the fast-growing and busiest airports in the USA.
Passengers who get a layover at this airport need some relaxation most of the time. This guide will help you what are the available favour regarding taking a rest, a short nap or a whole night staying.
Denver Airport sleeping pods are yet not facilitated. But, many alternatives will fulfil the needs of travellers.
For those who are going to transit through the Denver airport, this guide will ease your excretion by getting the required information.
Is There Any Sleeping Pod in Denver Airport?
The sleeping pod is a new trend that many airports brought into their system. It is a place where travellers can sleep and rest. The sleeping pods, aka nap pods, are capsule-shaped beds. 
Sleeping pods basically feature several conveniences like a luggage compartment, power socket, book reading-lamp, public WiFi, etc.
However, Denver airport does not yet have the facility of a sleeping pod in it. But there are many ways you can have a nap or rest inside the Denver airport.
The Way You Can Get a Nap, Rest, or Be Relaxed in Denver Airport
Although Denver international airport doesn't have any sleeping pods, there's always the option of lounges and hotels. So if you were hoping for Denver airport sleeping pods, don't get disappointed just yet.
Usually, there are many recliners and curvy chairs installed in many places throughout A, B, and C concourses. There are hotels nearby the airport where you can check in for a good rest or sleep at relatively lower prices with the help of any hotel booking website.
Apart from that, there are many lounges that provide different facilities for even business class passengers.
Substitutes For Sleeping Pods: Sleep Spots In Seating Areas
Usually, you can sleep on the ground. The carpet is not that thick so it will be better to carry shawls, blankets, or cushions. There are some recliner massage chairs in A and in 3rd-floor concourse A, and there are some mini beds as well.
Apart from that, there are many types of chairs installed throughout the airport where you may sit down and rest or even take a short nap for a while.
Substitutes for sleeping pods: Hotels
Westin Denver International Airport Hotel
Location: 

It's very close to the airport. Exit through the south end of level 5, cross the plaza and enter through the Westin main entrance. You can also enter through the lobby on level 6. 

Facilities: Free shuttles, free wifi, pool, bar, lounge, gym, pet-friendly, conference facilities, air conditioning, the desk in a room, interconnected rooms, coffee maker, refrigerator, bathroom, tv, etc. 
Contact:  (303) 342-2000, (800) 247-2336.
Cost: 
| | |
| --- | --- |
| Room Types | Cost Per Night |
| Traditional, Guest Room, 1 king | USD 400-USD 616 |
| The traditional, Guest room, 2 Queen | USD 440-USD 761 |
| Delux, Guest room, 1 King | USD 440-USD 700 |
AmericInn by Wyndham Denver Airport Hotel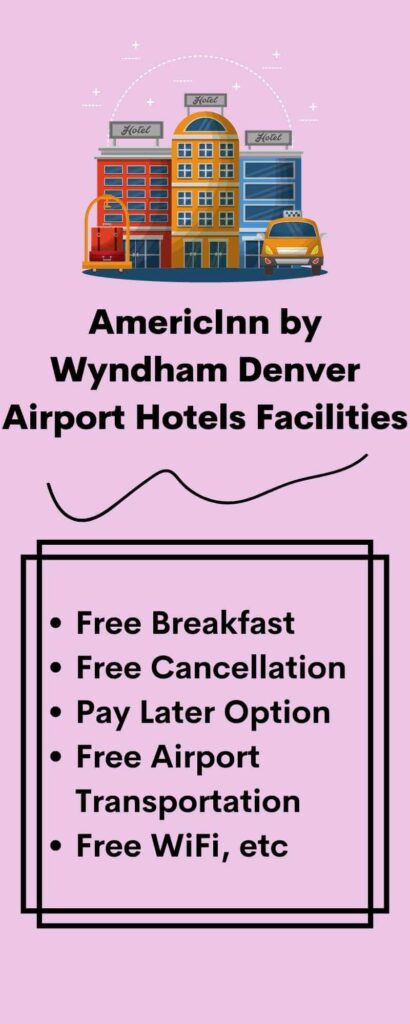 Location: Follow Pene Boulevard, 7010 Tower Road, Denver, CO 80249 7311
Facilities: free shuttles, housekeeping, free breakfast, free airport transportation, free WiFi, gym, pool, microwave, tv, fridge, etc.
Contact: (303) 373-5900
Cost: 
| | |
| --- | --- |
| Room Types | Cost Per Night |
| 1 King Bed Non-Smoking | USD 135-USD 185 |
| 1 King Bed Suite | USD 135-USD 155 |
| 2 Queen Beds Non-Smoking | USD 135-USD 180 |
Substitutes For Sleeping Pods: Lounges
American Airlines Admirals Club
Location: Concourse A, Agates north end, Airside. Open from 5.00am- 7.45pm.
Facilities: beverages, workstation, tv, printing, snacks, etc.
How to get in and cost: Have to be a passenger of American Airlines. You can pay 59.00 USD at the entrance or buy yearly membership of American Airlines Admirals, starting from 550 USD. 
Delta Sky Club
Location: 4th floor, concourse A, central Core, Airside. (4:45 AM – 7:30 PM)
Facilities: wifi, beverages, newspaper, magazines, air conditioning, etc.
How to get in and cost: US$ 545 yearly individual membership, US$ 845 yearly executive membership. Elite status, credit cards, etc.
Apart from these two, there's also United club and USO lounge, a military lounge providing many varied facilities.
Other Amenities
Although there are no shower facilities and no Denver airport sleeping pods, there are special needs facilities, child care, medical facilities, wifi, food and drinks, baby care, shopping, and many other facilities in this uniquely designed airport.
Final Thought
Sleeping pods are so far a rare addition for airports. They are installed to ensure sleep and rest, accommodating small spaces for travellers. Unfortunately, there are no Denver airport sleeping pods.
But it's quite visible that the airport has other alternative options, allowing travellers to rest or sleep during long layovers or in between flights. It's important, to know these facts for a comfortable journey through airports!
Was this article helpful?