Checking ticket confirmation before the flight is common among passengers. It is important for passengers for several reasons. Some travellers check confirmation via travel agents and some do it by themselves. Biman Bangladesh Airlines is a flag carrier of Bangladesh. Checking Biman Bangladesh tickets online, passengers often face problems. In this tutorial, I will show you how to check flight confirmation through Biman Bangladesh Official website by yourself.
Why Do You Need To Check Ticket?
Checking ticket confirmation is crucial for several reasons. You should check it to avoid unexpected things at the airport. Your flight schedule might be changed, you can know it by checking ticket confirmation. You must check the ticket for the following reasons
Airlines sometimes change flight schedules. If you do not check your ticket, you may miss the flight or the ticket might be a no-show.
Occasionally some flights get cancelled by airlines. If you don't check the ticket, you may not know it
Flight might be delayed. If you know this from before, then you can reach the airport in time. Not delay or not too early.
Three Ways To Check Biman Bangladesh Airlines ticket:
You can check your Biman Bangladesh airlines Ticket in three following ways.
You can ask your travel agent to check your ticket and let you know if everything is okay if you purchase a ticket from an agent.
you can contact or visit the Biman Bangladesh Airlines office and ask them to do it
You can check yourself from Biman Bangladesh Airlines' official website.
How To Check Biman Bangladesh Airlines (BG) Ticket Confirmation Status Online By Yourself?
You should follow the following steps to check your flight schedule by yourself.
Visit the Biman Bangladesh website Address: https://www.biman-airlines.com/
After landing Biman Bangladesh Homepage, You will see menus such as Book Flight, Check Your Trip, Flight Status, Flight Schedule and web check-in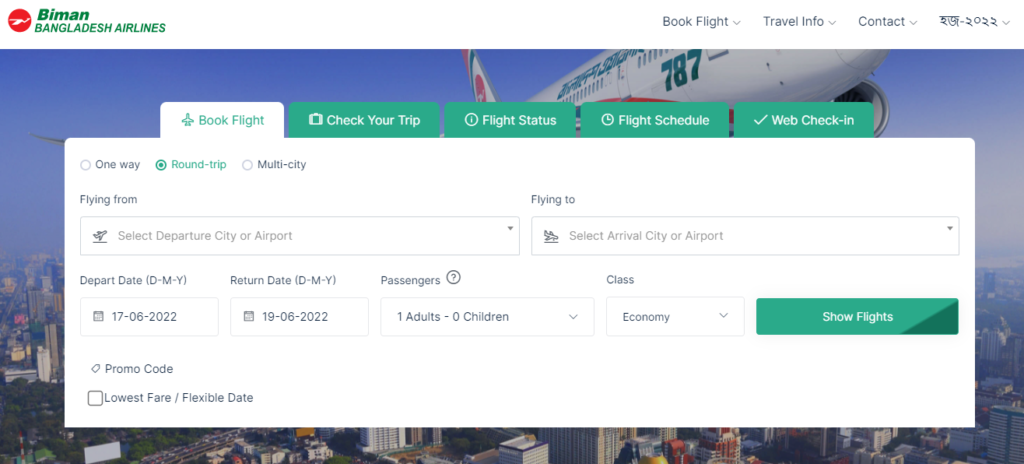 Click on Check your Trip

Type airline 6 letter PNR or reservation code and passengers last name ( Suppose your name is MD FARUK MIAH, so the last name is MIAH)
Then click on the search option, and you will be shown ticket status like the image below. Now check the flight schedule. Is it okay or not according to your ticket.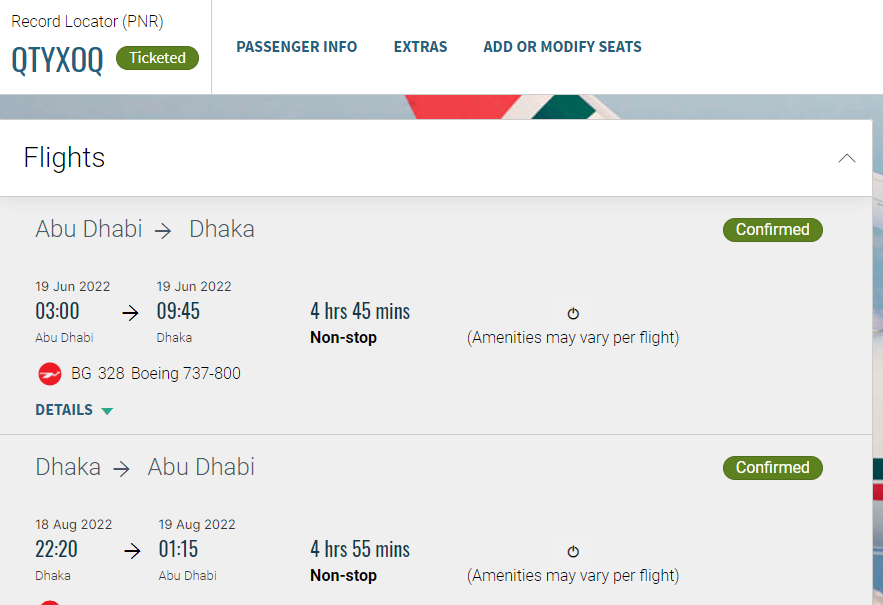 Congratulations, I have checked your ticket by yourself
Problem Checking Biman Bangladesh Ticket:
Sometimes, you may face problems when you try to check your Biman Bangladesh ticket. The website can not retrieve your ticket from the source file or can not connect with the GDS system backend. That time, you can not check your ticket. And again sometimes the Biman Bangladesh Airlines website gets in maintenance or gets the server down. That time too, you can not check your ticket. But recently Biman Bangladesh has redesigned its website and fixed its bug. So you should have done it smoothly.
Want Additional Help?
Please contact the Biman Bangladesh Airlines office or Contact over the Phone directly. The address is as follows:
Head Office,
Balaka, Kurmitola,
Dhaka-1229, Bangladesh.
+88-02-8901600
+88-02-8901730-44
Was this article helpful?