If you are a traveller who loves to have the best facilities of airlines at a cheap cost, then the best option for you is Turkish Airlines. Turkish Airlines is the national flag carrier Airline of Turkey, and in case of international reputation, it is the largest mainline carrier in the world. This airline has been serving its customers since 1933, and now it has 315 destinations in 120 countries.
Turkish Airlines is mainly well known for their facility at a cheap rate, so even regular customers can enjoy standard facilities. Among all the facilities that Turkish Airline provides, Wi-Fi onboard facility is top-notch. Turkish Airlines Wi-Fi service is complimentary for business class customers and Miles and Smiles card holders. But if you are travelling in economy class, you must buy internet packages from Turkish Airlines.
Istanbul Airport, Antaly Airport, Dalaman Airport, and Istanbul Ataturk Airport work as a hub for Turkish Airlines.
Turkish Airlines Wi-Fi Package for Business Class
Even though free Wi-Fi is a complimentary service to business class passengers, Miles & Smiles class holder gets this complimentary service too. Here is a short list of the complimentary Wi-Fi service Turkish Airline provides-
| | |
| --- | --- |
| Package(Complimentary) | Class availability |
| Unlimited | Business Class(Miles & Smiles Elite and Elite plus class holders) |
| 1 GB | Business Class |
| 400 MB | Miles & Smiles Elite and Elite plus class holders |
| 10 MB | Miles & Smiles Classic and Classic plus class holders |
Turkish Airlines Wi-Fi Package for Economy Class
If you are an economy class passenger, you can also use the broadband service of Turkish Airlines you have to pay for the packages.
| | |
| --- | --- |
| Package | Cost |
| 20 MB | 2.99$ |
| 50 MB | 4.99$ |
| 100 MB | 7.99$ |
| 250 MB | 14.99$ |
| 500 MB | 24.99$ |
How to Connect with Turkish Airlines Wi-Fi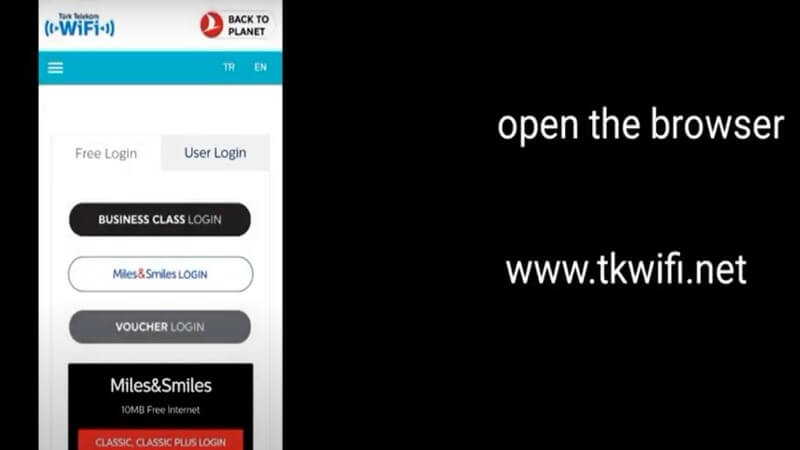 If you are finding it hard to connect with Turkish Airlines Wi-Fi, then don't worry; you will get their network access by following this procedure-
Turn on the airplane mode of the device that you use
Go to the setting of your device and select the Wi-Fi settings
Search for the network Turk Telekom WiFi Fly and connect to it
Open any browser from your device and visit "tkwifi.net" and then click connect
Enjoy their Wi-Fi service by selecting the package you want to buy or that you want as your complimentary service
Inflight Entertainment of Turkish Airlines
This airline tries to provide the best inflight entertainment service so that your journey can be peaceful and entertaining. Here is a sneak peek of the airline's entertainment service-
Collection of global music: To ensure you taste the diversity of music, Turkish Airlines provides 750,000 songs from over 3,500 musicians.
Live TV: The travellers of their A350, A330, B787, and B777 aircraft can taste live TV and worldwide roaming service by sitting on the plane!
Entertainment for your children: Your child can roam the safe internet service and can watch hundreds of animations and cartoons.
FAQ
Can I watch Netflix using Turkish Airlines Wi-Fi?
Yes, you can stream any movies from any video streaming platform like Netflix or Amazon Prime using their Wi-Fi as their internet speed is relatively high.
Who is the provider of Turkish Airlines Wi-Fi?
Turk Telekom Wifi Fly is the only internet service provider of Turkish Airlines.
Can I get free WI-Fi on Turkish Airlines?
You can use the free complimentary WI-Fi service of Turkish Airlines only if you are a business class passenger or a Miles & Smiles card holder. But if you are travelling in economy class, then free Wi-Fi service is unavailable.
Related Info Articles:
Was this article helpful?