Popular Diagnostic Centre is a Bangladeshi hospital. it is a brand hospital of Popular medical college affiliated with University Dhaka, A well-known hospital of Bangladesh that was established in 2010. Popular medical colleges offer Bachelor of Medicine, Bachelor of Surgery (MBBS) degrees.
Popular Diagnostic centre Uttara is located at Zasim Uddin, Uttara. The Appointment number is 09666 787805, 09613 787805
In this article, I will provide you with a complete list of Doctors of Popular diagnostic Centre Uttara.
Popular Hospital Uttara Address:
Name
Popular Diagnostic Centre, Unit 1, Uttara
Address
House # 21, Road # 7, Sector # 4,
Jashim Uddin More, Uttara, Dhaka-1230
Working Hour
7:00 AM – 11:00 PM (Everyday)
Hotline
09666 787805, 09613 787805
Email

[email protected]

Branch Manager
Mr Zohurul Islam
Popular Diagnostic Centre Working Hours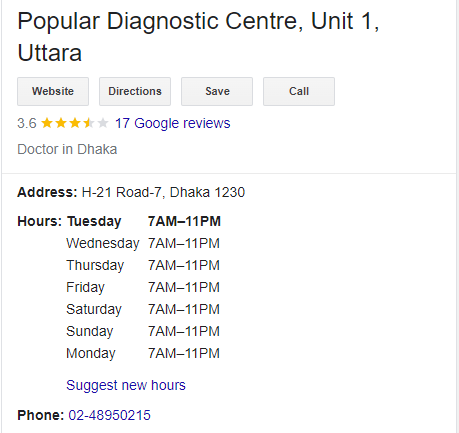 Popular Hospital Uttara Doctor List
Medicine Department: Doctors List of Popular Hospital, Uttara
Call Hotline for an appointment: 09666 787805, 09613 787805
| | | | | |
| --- | --- | --- | --- | --- |
| Doctor Name | Speciality | Experience | Practice days | Time |
| PROF DR. MOHAMMAD HYDER ALI | Medicine | MBBS, FCPS (Medi). Uttara Adhunik Medical College & Hospital | Tuesday | 4pm-8pm |
| PROF DR SHAFAYAT HASAN MAJUMDER | Medicine | MBBS, M-Phil FCPS (Medi). Medical College for Women and Hospital | Thursday, Wednesday, Tuesday, Monday, Saturday, Sunday | 3pm-7pm |
| ASSO PROF DR. GABINDA CHANDRA ROY | Medicine | FCPS (Medi, MD (Cardiology), MRCP (UK). Shaheed Shohrawardy Medical College & Hospital. | Saturday, Thursday, Wednesday, Tuesday, Monday, Sunday | 6pm-10pm |
| ASSO PROF DR. MARUF BIN HABIB | Medicine | FCPS,(Medi) Aplar Rheumatology Fellow. Uttara Adhunik Medical College & Hospital | Saturday, Wednesday, Tuesday, Monday, Sunday | 6:30pm -10pm |
| PROF. BRIG. GEN. DR. AFM SHAMSUL HAQUE | Medicine | FCPS (Med), FCPS (Carido), MCPS (Med), FESC, FACC (USA), FRCP (Glasgo). CMH | Saturday, Thursday, Sunday, Wednesday, Tuesday | 5:30 pm – 9:00 pm |
| PROF DR. (MAJ. GEN.) S M MOTAHAR HOSSAIN | Medicine | MBBS, MCPS (Medi), FCPS (Medi). Combined Military Hospital (CMH). | Thursday, Sunday, Saturday, Wednesday, Tuesday, Monday | 10:00 am – 1:00 pm |
| BRIG. GEN. RET. DR. MD SAIDUR RAHMAN | Medicine | FCPS (Medi), FRCP, FACP. Combined Military Hospital (CMH) | Saturday, Tuesday, Thursday, Wednesday, Monday, Sunday | 10:00 am – 12:00 pm |
| ASSO. PROF. DR. MD. MAHBUBOR RAHMAN(NIGHT) | Medicine | MBBS, MD (Internal Medi), MACP (USA). Shaheed Munsur Ali Medical College. | Saturday, Wednesday, Friday, Thursday, Tuesday, Monday, Sunday | 8:00 pm – 9:00 pm |
| ASST. PROF. DR. UZZWAL MALLIK | Medicine | MBBS (Dhaka),BCS (Health), FCPS (Medi). APLAR Rheumatology Fellow (Hong Kong), Asst. Prof. Dept. of Medicine Dhaka Medical College & Hospital.. | Saturday, Friday, Thursday , Wednesday, Tuesday, Monday, Sunday | 4:00 pm – 9:00 pm |
| ASST. PROF. DR. HASAN HAFIZUR RAHMAN | Medicine | MBBS, FCPS (Medi), MACP (USA), BCS (Health). Sheikh Hasina Medical College. | Saturday , Tuesday, Wednesday, Monday, Sunday | 6:00 pm – 9:00 pm |
| ASSO PROF DR. HASAN IMAM | Medicine | MBBS, CCD (BIRDEM), MD (Internal Medicine). BSMMU | Saturday, Thursday , Wednesday, Tuesday, Monday, Sunday | 4:00 pm – 8:00 pm |
| ASST PROF DR. ANARUL ISLAM | Medicine | MBBS, MRCP (UK), DTCD (BSMMU). Uttara Adhunik Medical College & Hospital | Saturday, Thursday, Tuesday, Sunday, Monday, Friday | 5:30 pm – 8:30 pm |
| DR. NANDITA PAUL | Medicine | MBBS, D.Card, FCPS (Medicine). Magda Medical College and Hospital | Friday | 5:00 pm – 8:00 pm |
| PROF. DR. MOINUDDIN AHMED | Medicine | MPH, FMD, MRSH.(Family Medicine), United Medical College | Wednesday, Thursday, Tuesday, Saturday, Sunday, Monday | 6:00 pm – 9:30 pm |
| ASSO. PROF. DR. MD. MAHBUBOR RAHMAN (EVENING) | Medicine | MBBS, MD (Internal Medi), MACP (USA). Shaheed Munsur Ali Medical College. | Saturday, Friday , Thursday, Wednesday, Tuesday, Monday, Sunday | 3:00 pm – 6:00 pm |
| DR. NUR ALAM (LELIN) | Medicine | MBBS,(SSMC) BCS,FCPS(Medicine)CCD(BIRDEM) Dhaka Medical College & Hospital. | Saturday, Friday, Thursday, Wednesday, Tuesday, Sunday | 4:30 pm – 6:30 pm |
Doctors List of Popular Hospital Uttara : GYNAECOLOGY DEPARTMENT
Call Hotline for an appointment: 09666 787805, 09613 787805
| | | | |
| --- | --- | --- | --- |
| Doctor Name | Experiences | Days | Time |
| PROF. DR. PARUL JAHAN | MBBS, MCPS, DGO, MS, FCPS (Gynae & Obs). Medical College for Women and Hospital. | Thursday, Sunday | 2:00 pm – 4:00 pm |
| PROF DR. JESMIN AKTER | MBBS, FCPS (GYNAE), MCPS, DGO. Medical College for Women and Hospital. | Tuesday, Thursday, Sunday | 5:30 pm – 9:00 pm |
| PROF DR. SHAMIMA HAQUE CHOWDHURY ANNIE | MBBS, MCPS, DGO MS (GYNAE). Uttara Adhunik Medical College & Hospital. | Saturday, Wednesday, Tuesday, Monday | 6:30 pm – 8:00 pm |
| PROF. DR. AKHTARUNNESA PARVEEN | MBBS, FCPS (Obs & Gynae). Medical College for Women and Hospital. | Saturday, Wednesday, Tuesday, Monday, Sunday | 6:00 pm – 9:00 pm |
| PROF. DR. LATIFA SAMSUDDIN | FCPS (Gyne & Obs) Bangladesh & Pakistan. FICS (USA). | Friday, Tuesday, Sunday | 10:30 am – 12:30 pm |
| ASSO PROF DR. SHILPI SAHA | MBBS, FCPS (GYNAE). Medical College for Women and Hospital. | Saturday, Thursday, Wednesday, Tuesday, Monday, Sunday | 6:00 pm – 9:00 pm |
| ASST. PROF. DR. NAFISA AMIN KHAN | MBBS, MCPS (Gynae ). Shaheed Munsur Ali Medical College & Hospital (Ret). | Saturday, Thursday, Wednesday, Tuesday, Sunday | 10:30 am – 1:00 pm |
| DR. PARVEEN SULTANA | MBBS, DGO, FCPS (GYNAE). BSMMU (Ret) | Wednesday, Monday | 10:30 am – 1:00 pm |
| ASST. PROF. DR. SAMSUN NAHAR | MBBS, FCPS (GYAE), MS (GYAE). Sheikh Rasel Gastro Liver Institute & Hospital. Mohakhali | Friday, Saturday, Tuesday, Thursday, Wednesday, Monday, Sunday | 5:30 pm – 9:00 pm |
| DR. FARHANA KALAM (OVI) | MBBS, FCPS (OBS & GYNAE). FCPS (GYNAE ONCOLOGY) | Saturday, Friday, Thursday, Wednesday, Tuesday, Monday, Sunday | 4:00 pm – 6:00 pm |
| PROF. DR.RUMI FARHAD ARA | MBBS,FCPS(Gyne) DGO(DU),DMC | Saturday, Wednesday | 6:00 pm – 8:00 pm |
| ASST.PROF.DR.SALMA NAHAR | MBBS, BCS, FCPS (Gynae&Obs) Shaheed Tazuddin Ahmad Medical College & Hospital Gazipur | Thursday, Tuesday, Sunday | 7:00 pm – 9:00 pm |
| ASST.PROF. DR.NAFISA AMIN KHAN (EVENING) | MBBS,MCPS(Gynae).Shaheed Munsur Ali Medical College and Hospital (Ret) | Saturday, Wednesday, Monday | 4:00 pm – 7:00 pm |
| DR MAHMUD BEGUM | MBBS, MCPS, MPH, DMU Medical College for Women and Hospital | Friday, Wednesday, Saturday, Monday | 4:00 pm – 6:00 pm |
| ASST. PROF. DR. SABRIN FORHAD | MBBS,FCPS (Gynae & Obs), Laparoscopic Surgeon, Uttara Adhunik Medical College & Hospital. | Saturday, Friday, Wednesday, Monday | 4:00 pm – 6:00 pm |
Doctors List of Popular Hospital Uttara: CARDIOLOGY DEPARTMENT
Call Hotline for an appointment: 09666 787805, 09613 787805
| | | | |
| --- | --- | --- | --- |
| Doctor name | Experiences | Practice days | Time |
| PROF. DR. MD. ROUSHON ALI | Cardiologist & Medicine Specialist. MBBS, MCPS, DTCD (Chest), FCPS (Med), | Saturday, Thursday, Wednesday, Tuesday, Monday, Sunday | 5:00 pm – 10:00 pm |
| PROF. DR. MD. NAZRUL ISLAM | MBBS, MD (Cardio).Shaheed Munsur Ali Medical College &Hospital | Tuesday, Wednesday, Saturday, Thursday, Monday, Sunday | 4:00 pm – 8:00 pm |
| PROF DR. ASHOK DUTTA | FCPS (MEDI), MD (CARDIO). National Heart Foundation Hospital & Research Institute. | Friday | 4:00 pm – 10:00 pm |
| ASSO.PROF.DR.RAYHAN MASUM MONDAL | MBBS.Md(Cardiology)BSMMU | Thursday, Sunday | 5:00 pm – 8:00 pm |
| ASSO.PROF.DR.UMME SALMA KHAN | MBBS.MD(Card), FSCAI (USA), (NICVD, Chainav & India), | Saturday, Wednesday, Tuesday, Monday | 5:00 pm – 8:00 pm |
| ASST.PROF.MAJ.DR.MD.NOORNOBI KHONDAKER | MBBS(Dhaka). MD (Card) Dhaka CMH | Friday | 10:00 am – 12:00 pm |
| DR,SHAHADAT HOSSAIN(TUHIN) MORNING | MBBS,BCS(Health)CCD(BIRDEM) MACP(USA) FCPS(Cardio) | Friday | 10:00 am – 12:00 pm |
| DR,SHAHADAT HOSSAIN(TUHIN) EVENING | MBBS,BCS(Health)CCD(BIRDEM) MACP(USA) FCPS(Cardio) | Friday | 4:30 pm – 8:00 pm |
| ASSO.PROF.DR.DIPOL KRISNO ADHIKARY | MBBS,(DMC) MD(Cardiology) BSMMU | Wednesday, Saturday, Monday, Tuesday, Sunday | 6:00 pm – 9:00 pm |
ORTHOPAEDIC SURGERY: DOCTORS LIST OF POPULAR HOSPITAL UTTARA
Call Hotline for an appointment: 09666 787805, 09613 787805
| | | | |
| --- | --- | --- | --- |
| Doctor name | Experiences | Days | Time |
| PROF DR. DEBASHISH BISWAS | MBBS, MS (ORTHOPEDIC SURGERY). Uttara Adhunik Medical College and Hospital. | Thursday, Saturday, Tuesday, Wednesday, Monday, Sunday | 6:30 pm – 8:30 pm |
| PROF DR. MD ABDUR ROB | MBBS, MS (ORTHOPEDIC SURGERY). | Saturday, Friday, Tuesday, Monday, Sunday | 4:30 pm – 9:30 pm |
| PROF. BRIG. GEN. ABDUR RAHMAN MOLLAH | MBBS, MS (ORTHOPEDIC SURGERY). Armed Forces Medical College. (Ret). | Saturday, Wednesday, Tuesday, Thursday, Sunday, Monday | 10:00 am – 12:00 pm |
| ASST PROF DR. MD INSANUL ALAM | MBBS (CMC), MS (ORTHOSURGERY-NITOR) Medical College for Women and Hospital. | Saturday, Wednesday, Monday | 4:00 pm – 6:00 pm |
| DR. ANANTA KUMAR BHAKTA | MBBS, BCS (HEALTH), MS (ORTHOPEDICS) | Saturday, Thursday, Wednesday, Tuesday, Monday | 4:00 pm – 6:30 pm |
| PROF.DR.SAMARJIT BARUA | MBBS,(DMC) MS(ORTHO),FACS(USA) | Saturday, Wednesday, Tuesday, Monday, Sunday | 8:00 pm – 10:00 pm |
| ASST. PROF. DR. MD. NAJIB ISLAM | MBBS(DU), D-Ortho(MMCH), MRCS(UK,Edin) | Friday, Thursday, Monday | 10:00 am – 12:00 pm |
| DR. MOHAMMAD ZOHIRUL ISLAM (EVENING) | MBBS(Dhaka), BCS(Health), D-Ortho (BSMMU), FCPS(Surgery) | Friday | 4:00 pm – 8:00 pm |
| DR.MOHAMMAD ZOHIRUL ISLAM(MORNING) | MBBS(Dhaka),BCS(Health),D Ortho(BSMMU),FCPS(Surgery) | Friday, Monday | 10:00 pm – 12:00 pm, 7:00 am – 8:00 am (Monday) |
| PROF.DR.M.A.RAHMAN | MBBS,FRCS(Glasgow) D,Orth,MPH(Hosp-Admin) PhD(Italy),FRSH(London) FlCS(USA) | Friday, Saturday, Sunday, Thursday, Tuesday, Wednesday, Monday | 10:00 am – 12:00 pm |
CHILD/PAEDIATRICS DOCTORS LIST AT POPULAR HOSPITAL, UTTARA
Call Hotline for an appointment: 09666 787805, 09613 787805
| | | | |
| --- | --- | --- | --- |
| Doctor name | experiences | Days | Time |
| PROF DR. KHAN NIZAM UDDIN | MBBS, FCPS (CHILD). Shaheed Munsur Ali Medical College & Hospital. | Thursday, Tuesday, Monday, Sunday | 3:00 pm – 5:00 pm |
| DR. M. A. QAYYUM (FUAD). (MORNING) | MBBS, DCH (D.U.) Medical College for Women and Hospital. (Ret) | Friday | 10:00 am – 2:00 pm |
| DR. M. A. QAYYUM (FUAD). (MORNING) | MBBS, DCH (D.U.) Medical College for Women and Hospital. (Ret) | Saturday, Wednesday, Tuesday, Sunday, Monday, Thursday | 10:00 am – 2:00 pm |
| ASSO PROF DR. KHADIZA RAHMAN (HAPPY) | MBBS, DCH, MD (CHILD). Mirpur Shishu Hospital. | Thursday, Tuesday, Sunday | 8:30 pm – 9:30 pm |
| ASST. PROF. DR. NAYEEMA SADIA | MBBS, DCH, FCPS (CHILD). | Thursday, Saturday, Wednesday, Tuesday, Monday, Sunday | 4:00 pm – 6:00 pm |
| DR. MD. TOFAZZAL HOSSEN | MBBS, MD (CHILD). BSMMU Consultant (Paed) MCHTI Azimpur Dhaka. | Friday, Saturday, Wednesday, Monday | 5:00 pm – 9:00 pm |
| ASST. PROF DR. FERDOUSI HASNAT | MBBS, MD (CHILD), (BSMMU). | Thursday, Tuesday, Saturday, Wednesday, Monday, Sunday | 4:00 pm – 6:00 pm |
| ASSO.PROF.DR.WAHIDUZZAMAN MOZUMDAR (EVENING) | MBBS,FCPS(Child),MD(Child Gastro)BSMMU | Thursday, Tuesday, Sunday | 4:00 pm – 6:00 pm |
| PROF.DR.ABUL HASNAT MD. ZAFOR | MBBS, D.Card, MD(Cardiology)(NICVD) Brahmanbaria Medical College and Hospital | Tuesday, Thursday, Saturday, Wednesday, Sunday, Monday | 10:00 am – 12:00 pm |
| ASSO.PROF.DR.SHAMS IBN MAKSUD | MBBS, FCPS.(CHILD) DCH Shaheed Munsur Ali Medical College & Hospital. | Saturday, Thursday, Wednesday, Tuesday, Sunday | 4:00 pm – 6:00 pm |
| DR.MD.ATAUL HOQUE | MBBS.DCH(DU) National Institute of Cardiovascular Disease (NICVD) | Thursday, Friday, Tuesday, Sunday | 4:00 pm – 6:00 pm |
NEUROLOGY DOCTORS LIST AT POPULAR HOSPITAL, UTTARA
Call Hotline for an appointment: 09666 787805, 09613 787805
| | | | |
| --- | --- | --- | --- |
| Doctor name | Experiences | Days | Time |
| PROF. DR. MD MONIRUZZAMAN BHUIYAN | MBBS, MD (NEURO), MACP (USA). BSMMU. | Saturday, Wednesday, Thursday, Tuesday, Monday, Sunday | 6:00 pm – 9:30 pm |
| PROF DR. RASHIMUL HAQUE RIMON | FCPS (MEDI), MD (NEURO). Uttara Adhunik Medical College & Hospital | Saturday, Thursday, Wednesday, Tuesday, Monday, Sunday | 7:30 pm – 10:00 pm |
| ASSO. PROF DR. MD. MUSHARRAF HOSSAIN | MBBS, MD (NEURO), MACP (USA). Uttara Adhunik Medical College & Hospital | Saturday, Wednesday, Tuesday, Monday, Sunday | 4:00 pm – 9:00 pm |
| ASST PROF DR. ANIS AHMED | MBBS, MD (NEURO). BSMMU. | Saturday, Friday, Thursday, Sunday | 5:00 pm – 8:00 pm |
| ASSO PROF DR. MD MOMENUZZAMAN KHAN | MBBS, MD (NEURO). Enam Medical College & Hospital | Saturday, Friday, Thursday, Wednesday, Tuesday, Monday, Sunday | 7:30 pm – 9:00 pm |
| ASST. PROF. DR. MOHIUDDIN AHMED | MBBS, FCPS (MEDI), MD (NEURO). Dhaka Medical College & Hospital. | Saturday, Monday, Thursday, Tuesday, Wednesday, Sunday | 6:00 pm – 9:00 pm |
| ASSO.PROF.DR MD MASUD HASAN | MBBS(DMC)FCPS(MEDI)MD (NEURO) | Friday | 4:00 pm – 6:00 pm |
| ASST. PROF. DR. KINGSHUK ABIR | MBBS, MD(Neuro) Tairunnessa Memorial Medical College & Hospital | Tuesday, Friday | 10:00 am – 12:00 pm |
GASTROENTEROLOGY DOCTORS LIST AT POPULAR HOSPITAL, UTTARA
Call Hotline for an appointment: 09666 787805, 09613 787805
| | | | |
| --- | --- | --- | --- |
| Doctor name | Experiences | Days | Time |
| PROF DR. FARUQUE AHMED | MBBS, FCPS (Medi), MD (Gastro), FRCP. Sheikh Russel Gastro Liver Institute & Hospital | Friday, Tuesday, Thursday , Sunday | 5:30 pm – 11:00 pm |
| PROF DR. MD ANWARUL KABIR | MBBS, MD (Gastro). BSMMU. | Thursday, Wednesday, Saturday, Tuesday, Monday, Sunday | 3:00 pm – 7:00 pm |
| ASSO PROF DR. MD GOLAM KIBRIA | FCPS (MEDI, MD (GASTRO). Sheikh Russel Gastro Liver Institute & Hospital | Saturday, Thursday , Wednesday, Monday | 6:00 am – 8:00 pm |
| DR. RABIUL ALAM | MBBS. PhD (Japan). | Saturday, Thursday, Wednesday, Tuesday, Monday, Sunday | 10:00 am – 12:00 pm |
| ASST.PROF.DR. DULAL CHANDRA DAS | Liver, Gallbladder & Pancreas Medicine Specialist. MBBS, MD (HEPATOLOGY). BSMMU. | Saturday, Thursday, Wednesday, Tuesday, Monday, Sunday | 5:00 pm – 9:00 pm |
| ASSO.PROF.DR.MD.JAHANGIR ALAM | MBBS.MD (HEPATOLOGY) Shaheed Shohrawardy Medical College & Hospital. | Friday | 5:30 pm – 8:00 pm |
| ASST.PROF.DR.TOUFIQ AZIZ( EVENING) | MBBS, MRCP (Medicine and Gastro)Medical College for Women and Hospital | Saturday, Thursday, Wednesday, Tuesday, Monday, Sunday | 1:30 pm – 2:30 pm |
| ASST.PROF.DR.TOUFIQ AZIZ | MBBS, MRCP (Medicine and Gastro)Medical College for Women and Hospital | Thursday, Saturday, Wednesday, Tuesday, Monday, Sunday | 7:00 pm – 9:30 pm |
ENT, HEAD & NECK SURGERY DOCTORS LIST AT POPULAR HOSPITAL, UTTARA
| | | | |
| --- | --- | --- | --- |
| Doctor name | Experience | Days | Time |
| PROF DR. AHMED MINHAJ SUMON | FCPS, DLO, MCPS. Medical College for Women and Hospital. | Wednesday, Saturday, Tuesday , Monday, Thursday, Sunday | 5:30 pm – 9:00 pm |
| PROF DR. KABIR AHMED | MBBS, DLO (DU), FCPS (ENT). Enam Medical College & Hospital | Tuesday, Saturday , Thursday, Wednesday, Sunday, Monday | 4:00 pm – 6:00 pm |
| PROF. BRIG. GEN. DR. MD. RAFIQUZZAMAN | MBBS, FCPS (ENT). Armed Forces Medical College (Retd) | Saturday, Wednesday, Tuesday, Monday, Sunday | 11:00 am – 1:00 pm |
| PROF. DR. NASEEM YASMEEN | FCPS (ENT), MBBS, DLO, Medical College for Women and Hospital. | Monday, Saturday, Thursday, Friday, Tuesday, Sunday | 3:00 pm – 5:00 pm |
| DR.LT.COL.MD.DELOWAR HOSSEN | MBBS.DLO.MCPS.FCPS(CMH) | Thursday, Wednesday, Tuesday, Monday | 4:00 pm – 6:00 pm |
UROLOGY SURGERY DOCTORS LIST AT POPULAR HOSPITAL, UTTARA
Call Hotline for an appointment: 09666 787805, 09613 787805
| | | | |
| --- | --- | --- | --- |
| Doctor name | Experience | Days | Time |
| PROF DR. A T M MOWLADAD CHOWDHURY | FCPS (SURGERY), MS (URO). Ibrahim Cardiac Hospital & Research Institute. (Birdem) | Monday, Saturday , Wednesday, Thursday, Tuesday, Sunday | 8:00 pm – 10:00 pm |
| PROF. DR. ANAMUR RASHID CHOWDHURY | MBBS. BCS(H), MS (UROLOGY, BSMMU), MS (UROLOGY, MOSCOW). | Saturday, Wednesday , Tuesday , Monday, Sunday , Thursday | 6:00 pm – 8:00 pm |
| ASST.PROF.DR. BIVASH BORAN BISWAS | MBBS (DHAKA), MS (URO). Dhaka Medical College & Hospital. | Saturday, Wednesday, Thursday , Tuesday, Monday , Sunday | 6:00 pm – 8:00 pm |
| ASST.PROF.DR.RIPON DEBNATH | MBBS.BCS.(Health) MS (Urology), Dhaka Medical College & Hospital. | Monday, Wednesday , Saturday | 3:00 pm – 6:00 pm |
CHEST MEDICINE DOCTORS LIST AT POPULAR HOSPITAL, UTTARA
Call Hotline for an appointment: 09666 787805, 09613 787805
| | | | |
| --- | --- | --- | --- |
| Doctor name | Experience | Days | Time |
| PROF DR MD. SHAHEDUR RAHMAN KHAN | FCPS (MEDI), MD (CHEST), FCCP. National Institute of Disease of the Chest and Hospital (NIDCH) | Thursday, Saturday, Wednesday, Tuesday, Monday, Sunday | 6:00 pm – 12:00 am |
| ASSO PROF DR. M. Z. HAQUE ZAHIR. (MORNING) | MBBS (DU), DTCD (BD), BCS (H). Dhaka Medical College & Hospital. (Ret). | Saturday, Thursday, Wednesday, Tuesday, Monday, Sunday | 11:00 am – 1:00 pm |
| ASSO PROF DR. M. Z. HAQUE ZAHIR. (Evening) | MBBS (DU), DTCD (BD), BCS (H). Dhaka Medical College & Hospital. (Ret). | Saturday, Monday | 8:00 pm – 9:00 pm |
| ASST PROF DR MD. ZAHIDUL ISLAM | MBBS, DTCD (DU). Mymensingh Medical College & Hospital. | Saturday, Thursday , Wednesday, Tuesday, Monday, Sunday | 5:00 pm – 7:00 pm |
SKIN/DERMATOLOGY DOCTORS LIST AT POPULAR HOSPITAL, UTTARA
Call Hotline for an appointment: 09666 787805, 09613 787805
| | | | |
| --- | --- | --- | --- |
| Doctor name | Experience | Days | Time |
| PROF M N HUDA (MORNING) | Dhaka Medical College & Hospital. (Ret). Sir Salimullah Medical College & Hospital (Ret). | Tuesday, Sunday | 8:00 am – 1:00 pm |
| PROF M N HUDA (EVENING) | Dhaka Medical College & Hospital. (Ret). Sir Salimullah Medical College & Hospital (Ret). | Tuesday, Sunday | 2:00 pm – 6:00 pm |
| PROF DR. KAZI A. KARIM | MBBS, DDV, MSSVD (LONDON). United Hospital (Gulshan) | Saturday, Monday, Wednesday | 10:00 am – 12:00 pm |
| PROF DR. A.K.M. SHARIFUL ISLAM | MBBS, DCM, DDV. Sir Salimullah Medical College & Hospital (Ret). | Saturday, Thursday , Wednesday , Monday, Tuesday , Sunday | 10:00 am – 1:00 pm |
| PROF. DR. WAHIDA KHAN CHOWDHURY | MBBS, DDV, FCPS. Enam Medical College & Hospital | Saturday , Wednesday , Monday | 11:00 am – 12:30 pm |
| ASSO PROF DR. MD NAZRUL ISLAM BHUIYAN | DDV, FRCH (LONDON). Medical College for Women and Hospital. | Saturday , Friday , Thursday , Wednesday , Tuesday , Monday , Sunday | 6:00 pm – 9:00 pm |
| ASSO PROF DR. A.R. CHOWDHURY | MBBS, DDV, MAMS (VIENA). The Bangladesh University of Health Science. | Saturday, Monday, Wednesday | 10:30 pm – 1:00 pm |
| ASST PROF DR. NAZMUL HAQUE SARKER | MBBS, DDV, MCPS (DERMATOLGY). Shaheed Munsur Ali Medical College & Hospital. | Saturday, Friday , Wednesday, Thursday, Tuesday, Monday, Sunday | 6:00 pm – 9:00 pm |
NEURO SURGERY DOCTORS LIST AT POPULAR HOSPITAL, UTTARA
Call Hotline for an appointment: 09666 787805, 09613 787805
| | | | |
| --- | --- | --- | --- |
| Doctor name | Experience | Days | Time |
| BRIG GEN (DR.) R. U. CHOWDHURY | MBBS,FCPS (SURGERY), MS (NEUROSURGERY). Combined Military Hospital (CMH). | Thursday , Wednesday , Tuesday , Monday , Sunday | 8:00 pm – 9:00 pm |
GENERAL SURGERY DOCTORS LIST AT POPULAR HOSPITAL, UTTARA
| | | | |
| --- | --- | --- | --- |
| Doctor name | Experience | Days | Time |
| ASSO. PROF DR. MD ATIAR RAHMAN | MBBS, FCPS (SURGERY) Sheikh Russel Gastro liver Institute & Hospital. | Saturday, Thursday , Tuesday, Wednesday , Monday, Sunday | 6:30 pm – 9:00 pm |
| PROF BRIG. GEN. HABIBUR RAHMAN | MBBS, FCPS (SURGERY), FICS. Armed Forces Medical College. (Retd) | Saturday , Friday , Wednesday , Tuesday , Monday , Sunday | 10:00 am – 12:00 pm |
| ASSO. PROF DR. LIYA AMIN | MBBS, FCPS (SURGERY). Eastern Medical College, Cumilla. | Thursday , Saturday , Sunday | 4:00 pm – 6:00 pm |
| DR. SADIA SAJMIN SIDDIQUA | MBBS, FCPS (SURGERY). Government Employee Hospital. | Wednesday , Monday | 4:00 pm – 6:00 pm |
| ASST PROF DR. LOBA NUR | MBBS, MSC (DERMATOLOY). Ashiyan Medical College & Hospital. | Saturday , Wednesday | 7:00 pm – 8:00 pm |
NEPHROLOGY/KIDNEY MEDICINE: DOCTORS LIST AT POPULAR HOSPITAL, UTTARA
Call Hotline for an appointment: 09666 787805, 09613 787805
| | | | |
| --- | --- | --- | --- |
| Doctor name | Experience | Days | Time |
| ASSO PROF DR. RASHED ANWAR | MBBS, MD (nephro). National Kidney Institute. | Saturday , Tuesday , Wednesday , Monday , Sunday | 6:00 pm – 9:00 pm |
| ASSO PROF DR. SHAHRIAR WAHID | FCPS (MEDI), MD (NEPHRO). Sir Salimullah Medical Collge & Hospital. | Thursday , Wednesday , Tuesday , Sunday | 5:00 pm – 7:00 pm |
| ASSO. PROF. DR. MD. ANOWARUL HOQUE FARAJI | MBBS,BCS,MD(Nephrology)Colonel Malek Medical College, MBBS,BCS,MD(Nephrology) | Saturday , Wednesday , Tuesday , Monday , Sunday | 6:00 pm – 10:00 pm |
ENDOCRINE MEDICINE: DOCTORS LIST AT POPULAR HOSPITAL, UTTARA
| | | | |
| --- | --- | --- | --- |
| Doctor name | Experience | Days | Time |
| PROF DR. MD HAFIZUR RAHMAN | MD (EM), DEM (BIRDEM) MACE. Dhaka Medical College & Hospital. | Thursday , Saturday , Wednesday , Tuesday , Monday , Sunday | 6:00 pm – 9:00 pm |
| PROF DR. MD SHAH JAMAL KHAN | MD (ENDROCRINOLOGY, BIRDEM,), MACE (USA). Enam Medical College & Hospital | Saturday , Thursday , Wednesday , Tuesday , Sunday | 6:00 pm – 9:00 am |
| ASST.PROF.DR MOHAMMAD IMTIAZ MAHBUB | MBBS(SSMC),MD(Endocrinology) Sheikh Hasina National Institute of Burn & Plastic Surgery. | Saturday , Wednesday , Monday | 5:00 pm – 6:00 pm |
ONCOLOGY: DOCTORS LIST AT POPULAR HOSPITAL, UTTARA
| | | | |
| --- | --- | --- | --- |
| Doctor name | Experience | Days | Time |
| ASST. PROF. DR. LUBNA MARIAM | MBBS, Mphil, FCPS. National Institute of Cancer Research & Hospital | Saturday , Wednesday , Monday | 8:00 pm – 9:00 pm |
PHYSICAL MEDICINE & REHABILITATION: DOCTORS LIST AT POPULAR HOSPITAL, UTTARA
Call Hotline for an appointment: 09666 787805, 09613 787805
| | | | |
| --- | --- | --- | --- |
| Doctor name | Experience | Days | Time |
| ASST PROF DR. F. R. AL-MAHMUD. (MORNING) | FCPS (PHYSICAL MEDICINE). TMSS Medical College, Bagura. | Tuesday, Saturday, Monday, Sunday | 10:00 am – 12:00 pm |
| ASST PROF DR. F. R. AL-MAHMUD. (EVENING). | FCPS (PHYSICAL MEDICINE). TMSS Medical College, Bagura. | Monday, Sunday, Saturday | 4:00 pm – 6:00 pm |
| ASST.PROF.IBRAHIM HOSSEN | (MBBS,MD).Physical Medicine Enam Medical collage and Hospital | Saturday, Thursday, Wednesday, Tuesday | 4:00 pm – 6:00 pm |
PSYCHIATRY: DOCTORS LIST AT POPULAR HOSPITAL, UTTARA
| | | | |
| --- | --- | --- | --- |
| Doctor name | Experience | Days | Time |
| PROF A. K. MOYEENUDDIN AHMED | MBBS, MCPS (Psycho). Shaheed Munsur Ali Medical College & Hospital (Retd) | Saturday, Wednesday, Monday, Tuesday, Sunday | 4:00 pm – 7:30 pm |
| PROF BIRG. GEN. MD HABIBUR RAHMAN | MBBS, FCPS (PSYCHO). Combined Military Hospital (CMH). (Retd) | Friday | 9:30 am – 12:00 pm |
HAEMATOLOGY: DOCTORS LIST AT POPULAR HOSPITAL, UTTARA
Call Hotline for an appointment: 09666 787805, 09613 787805
| | | | |
| --- | --- | --- | --- |
| Doctor name | Experience | Days | Time |
| ASSO PROF DR MD RAFIQUZZAMAN KHAN | MBBS, DCP, FCPS (HEMATOLOGY). BSMMU. | Wednesday, Tuesday, Monday, Sunday , Thursday, Saturday | 8:00 pm – 9:30 pm |
SONOLOGIST: DOCTORS LIST AT POPULAR HOSPITAL, UTTARA
Call Hotline for an appointment: 09666 787805, 09613 787805
| | | | |
| --- | --- | --- | --- |
| Doctor name | Experience | Days | Time |
| DR.JAHAN ARA | MBBS(DMC)M-Phil(Radiology&Imaging) | Monday, Tuesday | 5:30 pm – 10:30 pm |
| ASST. PROF.DR.ROZI PARVIN | MBBS,FCPS(Radiology) Medical College for Women and Hospital uttara | Thursday, Tuesday, Monday, Sunday, Wednesday, Saturday | 4:00 pm – 5:00 pm |
| ASSO.PROF.DR.HASINA BEGUM | MBBS,M-Phil(Radiology&Imaging)Sheikh Russel Gastro liver Institute & Hospital | Friday, Thursday, Wednesday, Sunday, Saturday | 5:30 pm – 10:30 pm |
| DR.FARJANA NASRIN | MBBS(DU)MD((Radiology&Imaging)(BSMMU) | Sunday, Monday, Tuesday, Wednesday, Thursday, Saturday | 8:30 am – 2:30 pm |
| DR. MATIUR RAHMAN KHAN (MORNING) | MBBS, BCS (Health), DNM (DU), MD (USA) | Saturday, Thursday, Wednesday, Tuesday, Monday, Sunday | 8:30 am – 2:00 pm |
| DR MATIUR RAHMAN KHAN (EVENING) | MBBS, BCS (Health), DNM (DU), MD (USA) | Saturday, Thursday, Wednesday, Tuesday, Monday, Sunday | 6:00 pm – 10:00 pm |
EYE / OPHTHALMOLOGY :DOCTORS LIST AT POPULAR HOSPITAL, UTTARA
| | | | |
| --- | --- | --- | --- |
| Doctor name | Experience | Days | Time |
| DR. MD. ADNAN ISLAM | MBBS,BCS(Health)CCD(BIRDEM), MS(BSMMU), Eye Specialist and Surgeon | Saturday, Friday, Wednesday, Thursday, Sunday, Monday, Tuesday | 5:00 pm – 10:00 pm |
FOOD & NUTRITION: DOCTORS LIST AT POPULAR HOSPITAL, UTTARA
Call Hotline for an appointment: 09666 787805, 09613 787805
| | | | |
| --- | --- | --- | --- |
| Doctor name | Experience | Days | Time |
| FARJANA ISLAM SHOMPA | BSc (Hons), M.Sc Food and Nutrition, Nutrition & Special Diets Training (BIRDEM) | Saturday, Thursday, Friday, Tuesday, Wednesday, Monday, Sunday | 9:30 am – 12:30 pm |
| SONIA SABRIN SUMA | BSC,MSC | Thursday, Wednesday, Tuesday, Saturday, Monday, Sunday | 9:30 am – 12:30 pm |