Going on a business trip or vacation, travelers often envisage waiting hours in the airport. Even it has become very agitating when you suffer jet lag in between the transit flight or delay on your foreign meeting for the Lag flights.
Thinking about customers' convenience, Frankfurt resolves the problem with a cozy solution. Long haul flights or transit flights are no longer a trouble for Frankfurt airlines passengers. Frankfurt Airlines presents NapCab, a private sleeping pod where passengers can peacefully sleep, rest, or work at the layover time.
In this article, we will give all ins and outs of the Frankfurt Airport Sleeping Pod.
Location of the NapCab Sleeping Pods in Frankfurt Airport
Check the images below: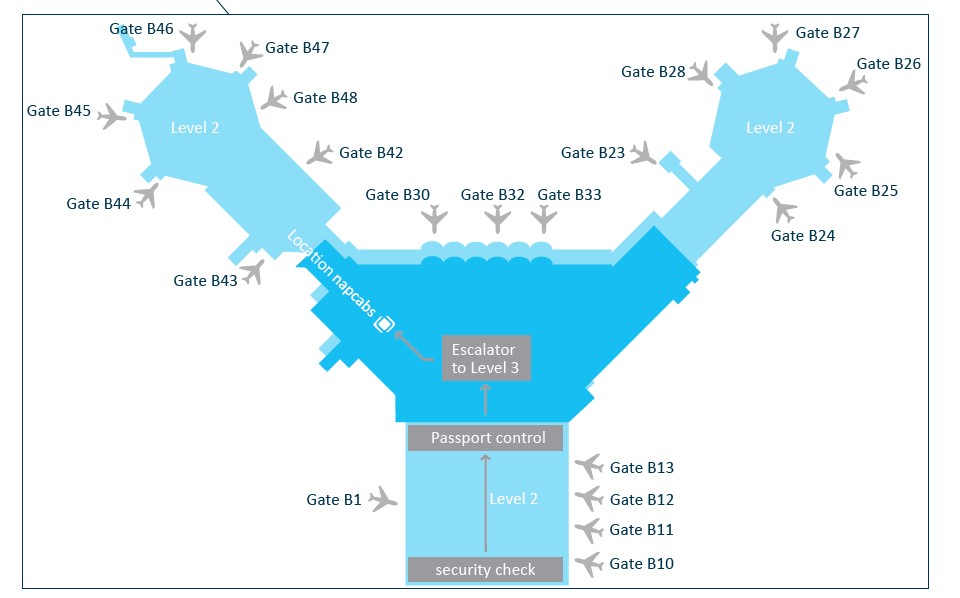 The NabCabs are located on Level 3 of Terminal 1. You can find Terminal 1 at the B-Transit security area across from the Air Canada Lounge and close to the roof terrace. To get more accurate directions, go to the service information desk or use Google Maps.
The shower rooms are just a few steps from the cabins.
Booking Napcabs:
You can Frankfurt Airport sleeping pods online. Follow this link and book
Support for napcabs
How Much to Pay For the NapCabs?
NapCab is a 24/7 service at Frankfurt Airport that offers a 4.2 square meters cabin with a number of amenities. If you want to use NapCabs, you have to rent it on an hourly basis. Here is the rental chart for NapCab Sleepod.
| | |
| --- | --- |
| Daytime (7 am – 9 pm) | Night time (10 pm -6 am) |
| 17 Euros per hour (Each cabin) | 12 euros per hour (Each cabin) |
Conditions
If you want to rent the pods in the daytime (7 am – 9 pm), you have to rent them for at least two hours.
If you rent the pods at night time (10 pm -6 am), you have to rent for three hours maximum.
Reservation Method
You can reserve the Sleepod on the spot if it is available.
You can also reserve online via booking.napcab.com
Payment Method:
You can use a credit card, PayPal or Alipay as a digital payment method for the NapCab sleeping pod.
Features of 'NapCab' sleeping pods at Frankfurt Airport
The sleeping pod of Frankfurt Airport is operated by a German company NapCab GmbH. The cubicles are equipped with all modern amenities and comforting features. Check out the list below:
A cozy bed usable for sleep or nap
Clean and disinfected cubicles
Adjustable air conditioning
Alarm clock
USB charging port
Internet access
Working station facilities with touchscreen module
Access to videos and music
iPod docking station
MP3 port
Shower room
Garbage bin inside the cabin
Conditions:
You can use shower rooms every day from 6.00 am to 11.30 pm. It will cost 6 euros. At this price, you can get clean towels and toiletries.
Alternatives To Frankfurt Airport Sleeping Pods: Free Options
There are a couple of options for getting rest at layovers at the Frankfurt Airport. The question is which one would be the best deal. Let's see some other resting places at Frankfurt Airport.
Silent Chairs
Silent Chair offers a cozy arch-shaped design chair that has a small table with a USB charging port. Its soundproof glass creates a noise-free ambiance that helps you to sleep or rest. You can also enjoy music with the jack and speaker.
If you are in a medium time layover, you can choose silent chairs to stay comfortable.
Leisure Zone
Like the silent chairs, Leisure Zone offers a chair with a number of power sockets. The only difference with silent chair service is that the Leisure zone has a more comfortable ambiance.
If you need to spend a good amount of time at the airport or need to charge your personal devices in a tension-free environment, then you may prefer the Leisure zone.
Roof-top air deck
At Frankfurt Airport, you can enjoy an open view from the roof-top. You can see a marvelous view of flight operations with a telescope free of cost. There is a seating arrangement amid the plants. You can also take your smoke break here. This is an excellent option for fun-loving people.
Prayer Hall or Chapel
This is another good free option you can try. The prayer room is open to all. If you take a short nap there, nobody will bother. Just go there and take a rest. Keep in mind, you should keep baggage safely.
Paid Options: Frankfurt Airport Sleeping Pods
Lounges at Frankfurt Airport
Two types of lounges are available at Frankfurt Airport. One is accessible to everyone, another is the exclusive first-class lounge. The exclusive lounge is subject to economy and business class service, whereas public lounge services are common for all passengers.
The public lounge is for you if you are comfortable with the crowd and want a low-cost relaxing time.
If you want more privacy and comfort, travel with your family and children, then go for the exclusive lounges according to your budget.
Frankfurt Airport Hotel
Inside the airport area, there are some hotels like My Cloud Transit Hotel, Sheraton Frankfurt Airport Hotel, Hilton Garden Inn, and Hilton Frankfurt Hotel. You can find all luxury and international hotel services in these ai transit hotels. Just have to pay higher than the other options.
If you are willing to spend for your comfort, then choose to stay at airport hotels.
FAQ
How many Sleepod are at Frankfurt airport?
A good Numbers of sleep pods are available in Terminal 1 at Frankfurt airport
Can I share NapCabs with any other person?
No, The NapCabs are single cubicles only for one passenger.
More Related Articles:
Was this article helpful?