Dubai International Airport is a major global airport. Walking through this busy terminal to board a plane is an adventure in itself.
Dubai International Airport's luxurious lounges give a fantastic start to your holiday with limitless champagne and nibbles.
Sheikh Rashid Terminal 1, Terminal 2, and Terminal 3 make up Dubai International Airport, usually known as DXB. Terminal 3 is the biggest and most opulent, serving primarily to Emirates and select flydubai aircraft.
Terminal 1 serves all foreign planes, excluding Emirates. Qantas, BA, and SQ are on the list. Terminal 2 at Dubai Airport serves regional routes and inexpensive carriers like flydubai.
Transit links Terminals 1 and 3. After passing security, passengers may freely move between terminals.
Ahlan Lounges
The Ahlan Lounge, situated in Terminal 1 Concourse D above the departure gates, caters to both First Class and Business Class passengers. The lounges at Dubai International Airport are available to economy-class travelers.
Ahlan Lounge can accommodate 177 passengers, while First Class Lounge can accommodate 156.
The guest's every need at the Ahlan Lounge will be met by a trained and personable Meet & Greet service officer. You may access the Ahlan lounges if you have a Priority Pass to the Dubai Airport Lounges.
| Location | Terminal 1 Concourse D above the Departure Gates |
| --- | --- |
| Phone | +971-4-505-2703 |
| Opening hours | 24 hours a day |
Facilities
Airport concierge service
Buffet and a-la-carte
Mixed drinks
Wi-Fi speed
Business Center
Relax at Timeless Spa (extra charges)
Kid Zone
Kids menu
Showers
Lounge Access & Rates
| Class | Time | Cost |
| --- | --- | --- |
| Concourse B | 4-hour | USD 59.75 |
| Concourse D | 4- hour | USD 59.75 |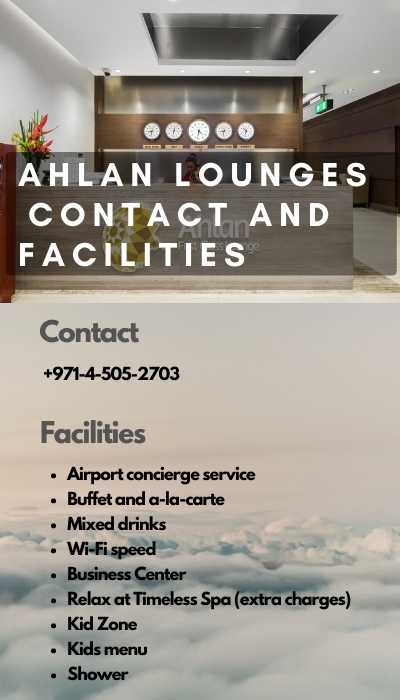 Marhaba Lounges
Marhaba Lounges in Dubai International Airport is located in all three terminals, making them one of the most accessible lounges at the airport. Services at all lounges in Terminal 1, Terminal 2, and Terminal 3 are similar, and all guests can avail of any service package.
Marhaba Dubai International Airport lounges have several packages and service charges depending on your needs. It is one of the most frequently visited Dubai International Airport lounges in Terminal 3.
| Location | Terminal 3, Concourse B |
| --- | --- |
| Phone | +971-800-627-4222 |
| Opening hours | 24 hours a day, 7 days a week |
Facilities
Showers cost extra at Terminal 1 and Emirates Terminal 3.
Special children's space at Emirates Terminal 3 Concourse A and Terminal 1 Cinema room
Terminal 1 has a pay-to-sleep room.
Terminal 1 Premium Class Lounge has prayer rooms, a buffet, and quiet spaces for a fee.
VIP check-in/immigration
Lounge Access & Rates
| | | |
| --- | --- | --- |
| Class | Time | Cost |
| Concourse B | 2 hours | USD 52.87 |
| Concourse B | 4 hours | USD 105.75 |
| Concourse B | 6 hours | USD 158.62 |
| Concourse B | 8 hours | USD 108.61 |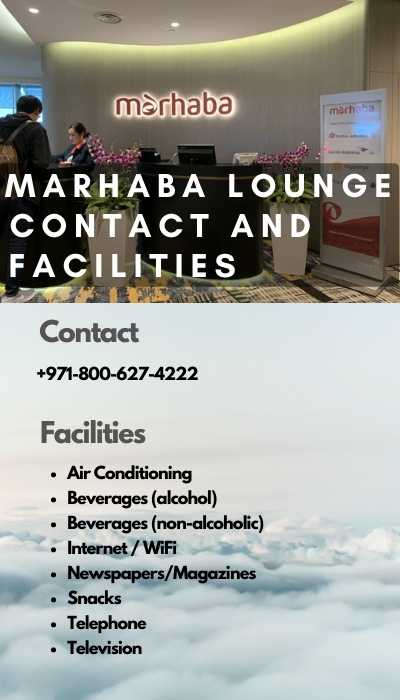 SLEEP 'N FLY LOUNGE AT DXB
The sleep 'n fly lounge at DXB brings a new concept to passenger comfort. The sleep 'n fly Concept by Yawn offers sleeping pods for passengers to take a nap before catching their flight.
The lounge is open 24 hours a day. Guests with a Priority Pass for Dubai Airport can have access to the sleeping pods. Passengers can also make the most of the newly launched flagship lounge at B-Gates.
The new lounge boasts self-service beverage counters, restrooms, and Starbucks. Once you pay for the lounge, the price includes unlimited beverages at Starbucks for in-house consumption only. The shower is available for an additional charge and can be pre-booked online or with the on-site concierge.
| Location | A-Gates (Terminal 3) opposite Gate A1. B-Gates (Terminal 3) between Gates B14 and B18. C-Gates (Terminal 3) check-in next to Gate C14. D-Gates (Terminal 1) opposite Gates D6 and D7. |
| --- | --- |
| Phone | +971-52-355-1477 |
| Opening hours | 24 hours a day 7 days a week |
Facilities
Private pods for solo travelers
Hot and cold towels available at check-in
A 90°-180° seat to flat-bed
Baggage storage facilities
Ottoman seats
International power sockets/USB chargers
Wooden Folding table
Slim storage area for phones and tablets
Full-sized double beds
Reading lights
Full-size mirrors
Coat hangers
Lounge Access & Rates
All of the sleep 'n fly's listed pricing are subject to change.
| | | |
| --- | --- | --- |
| Class | Time | Cost |
| Lounge lite | 2 hours | USD 29 |
| Business Pod | 2 hours | USD 43 |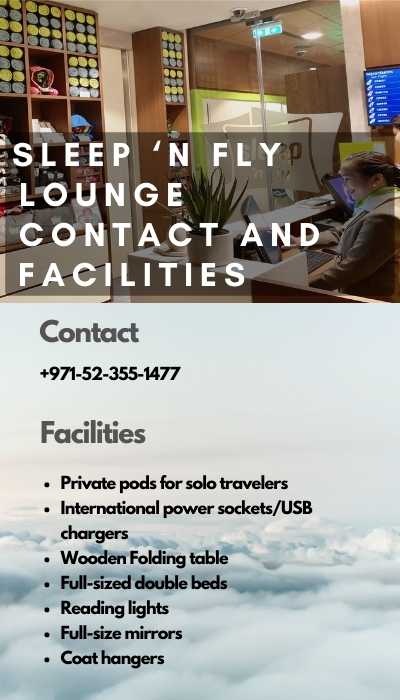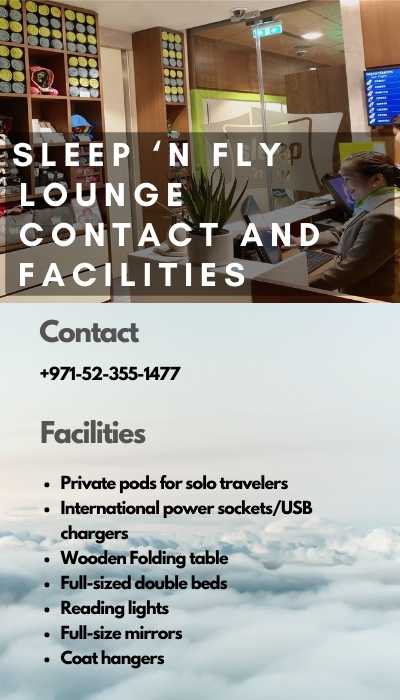 Frequently Asked Questions
Are There Free Lounges at Dubai Airport?
Depending on your fare class and Emirates Skywards membership, you and a guest may have free or reduced lounge access. If you are willing to spend some more money, you may get entry to the lounges in Dubai and in other cities around the globe.
Can I Sleep in Dubai Airport Lounge?
There is no fee to enter any of the Marhaba Lounges located all around the globe if you are using a Mastercard. Priority Pass and Lounge Key members may enter the Marhaba lounge 3 at Dubai International Airport.
Can I sleep in the Dubai airport lounge?
At the Sleep 'n Fly Sleep Lounge, you can get some shut-eye for an hour or spend the night. The Pods may also be utilized in the same way as a portable office to get some work done in peace and quiet.
Was this article helpful?