If you are a regular traveller between various counties of the world and love enjoying your flight, then it's apparent that you want a good Wi-Fi and entertainment facility on your flight. Air New Zealand (NZ) serves the best inflight entertainment experience for your utmost pleasure. Clouds of the sky won't prevent you from communicating with the rest of the world.
Air New Zealand doesn't hesitate regarding their customer's comfort. That's why they give you the best broadband connection on board. And when going towards different destinations, you can easily communicate with the rest of the world using Air New Zealand's Inflight Wi-Fi. The flights with Wi-Fi are free, and if there is no Wi-Fi on your flight, then sorry, better luck next time. You just have to check if your flight has free inflight Wi-Fi by checking it on their official App.
Air New Zealand is one of the reputed Airlines in the Oceania Continent that serves travellers by having a flight to more than 100 destinations. Their history is quite old and exciting, so you will love to hear a sneak peek of it. Tasman Empire Airways Limited owned Air New Zealand from 1940 till 1964. But they disowned the Airlines by handing it over to the New Zealand Government in 1965. Before the government-owned it, it only had flights in the Oceania continent, most likely between Australia and New Zealand. But now it flies to different continents and thus to hundreds of destinations.
Now here is some vital information about Air New Zealand Inflight Wi-Fi and entertainment that you should know before getting on board with them-
Checking Air New Zealand's Free Wi-Fi Facility
Until 2020, Air New Zealand is charged for the Wi-Fi packages they serve. But from 2020, all Air NZ flights that have Wi-Fi now are free. To check if your flight has Wi-Fi or not, you can check it through their official App. To check if your Air NZ flight has a free Wi-Fi facility, you have to follow these steps-
Whatever device you are using, download the free Air Nz Mobile App by visiting the link below- https://www.airnewzealand.co.nz/air-nz-app
All the information about your flight, including inflight Wi-Fi and entertainment, will be available before 5 days of the flight take-off date.
There, you have to input your flight name and date; then, it will show whether your flight has free Wi-Fi or not.
Air New Zealand Wi-Fi Packages
Package
Price
Full Flight Pass Package
Previous rate:30$-40$
Current Rate: Free
The process to Connect with Air New Zealand's Wi-Fi on Board: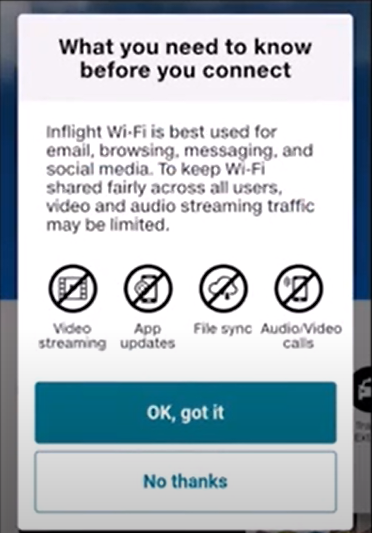 Enable Flight Mode: At the very first step, you have to turn on your device's Airplane mode.
Enable your device's Wi-Fi: Turn on your device's Wi-Fi by going to network settings.
Join Air NZ's network: You have to connect with AirNZ_InflightWiFi
Follow their websites instruction: Follow the instructions given here by visiting https://wifi.airnz.com/
Now enjoy Air NZ's Wi-Fi when flying in the clouds!
Air New Zealand's Free Wi-Fi Facility
A fair share of bandwidth: Air New Zealand doesn't compromise when it comes to the fair share, it deserves customer satisfaction. For a fair share of Wi-Fi, they have set a limit for high data usage thus everyone can enjoy their connection at the same speed.
Prohibitions:

To make the fair share and also for maintaining the peace of other customers voice calls are prohibited by this airline's Wi-Fi
You can't also make video calls after the flight takes off
Downloading any kind of App is strictly prohibited using their Wi-Fi.
Accessing cloud storage in the flight is prohibited.
You should also stay away from playing multi-player games.
FAQ
Can I watch Netflix using Air NZ's Wi-Fi?
No, you can't steam any high resolution or full-screen video watching their free Wi-Fi on board.
How does the Wi-Fi of Air NZ works?
There is an antenna placed on the top of the Aircraft of Air New Zealand. Your inputted signal goes there and then the antenna sends the signal to space and then it goes to the satellite station. Then it goes down to the recipient's device and it works at 800 Km per hour.
Does every Aircraft of Air New Zealand has free Wi-Fi?
Almost all the aircraft of Air NZ provide free Wi-Fi facilities. But the aircraft that still has no Wi-Fi facility is working on it so that they can give you the best.
I hope we have satisfied all your queries about Air New Zealand Wi-Fi. Have a safe journey with their airlines!
More Related Articles:
Was this article helpful?